NIVEA's Skin Struggles
NIVEA has over one hundred years experience creating caring products for our skin, from teenage acne to anti-ageing solutions and everything in between. They wanted to add value to their followers' feeds with a responsive campaign that supported their specific skincare needs, as well as showcasing the wealth of specialist insight that NIVEA has on their website.

Client /
NIVEA UK​
Agency /
Cheil Europe ​
Year /
2021
Adobe Suite /
Illustrator
AfterEffects
Photoshop
After I developed the initial NIVEA brand, I created this subset of the NIVEA playbook visual style that would be specific for Skin Struggles.
​
The core colours were the NIVEA blue, white and highlights of yellow.
I was responsible in creating the look and feel and designing all of the assets for the Skin Struggles campaign. This includes the animated 'NIVEA tin/smile' logo lock-up, which I primarily created in Adobe Illustrator and then I took into Adobe AfterEffects to animate.
COVID-19 and the rise of all things 'maskne'
Here on the Instagram post and story, we talk about the struggle of 'Maskne'. Offering tips to avoid this new and unusual type of skin struggle - that two years ago, we wouldn't have thought it would be another thing to worry about regarding our skin.
Skin struggles: 'Maskne' in feed
Skin struggles: 'Maskne' Instagram story
Skin Struggles collection
You'll now see a small selection of skin struggles posts. Working with the creative team for content and copy, I applied the look and feel towards each brief. Designing prodominately in AfterEffects without the use of Illustrator anymore.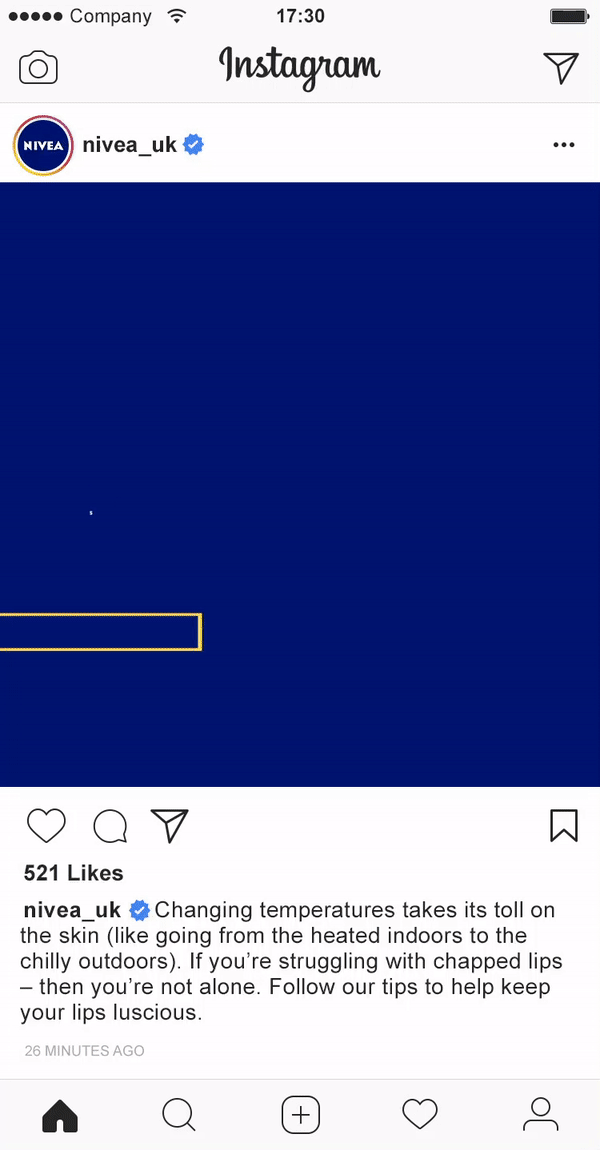 Skin struggles: Chapped lips
Skin struggles: Clearer skin
Skin Struggles in the world
Our team interacted with followers directly on Facebook and Instagram through Questions and Polls, and then shared bespoke editorial content, to guide and advise followers on how to deal with this issue.
We worked across a variety of touch points including Instagram stories and in feed, working with the NIVEA influencers and producing Pinterest infographics. All the while pushing followers to the NIVEA website, where their new E-Commerce platform lives.
Skin struggles:
Townsend Twins, NIVEA Family content